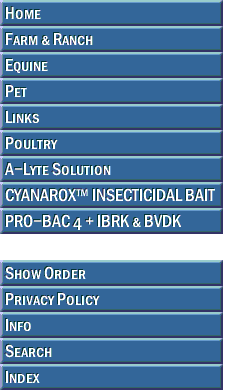 WF YOUNG

Indication flies | gnats | mosquitoes | ticks

Species canine | equine | premise

Active Ingredient permethrin | piperonyl butoxide | pyrethrins

Description Absorbine UltraShield EX is a sweat resistant, weatherproof insecticide and repellent. It provides up to 17 days of protection from over 70 species including biting and nuisance flies, mosquitoes, ticks and gnats. The water-based formula contains multiple sunscreens and coat conditioners, including aloe and lanolin. Safe for use on horses, ponies, foals (over 12 weeks of age) and dogs (over 12 weeks of age).










Please contact us for discount pricing on large orders.


Call toll free 1-800-892-6978 or email us at info@animalhealthusa.com