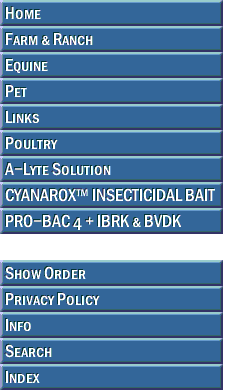 ELANCO

For control of horn fly and lice on beef cattle and calves Season-long control of lice with a single application. Ready to use powerful, quick kill. Contains gamma-cyhalothrin.

DOSAGE/ADMINISTRATION:
Apply product along the backline at the rate of: More than 600 lbs: 15 mLs (1/2 fl. oz.) Less than 600 lbs: 10 mLs (1/3 fl. oz.) Not recommended for veal calves. Do not apply to lactating or dry dairy cows.Do not apply to the face of beef cattle and calves.





4.5 liter $142.99 w/
ADDITIONAL $30 HAZARD FEE - PER CASE
4.5 Liter $140.99 pack of 2 $281.98 w/
ADDITIONAL $30 HAZARD FEE - PER CASE







Please contact us for discount pricing on large orders.


Call toll free 1-800-892-6978 or email us at info@animalhealthusa.com