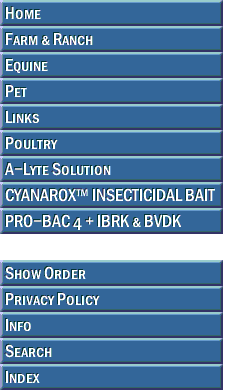 DURVET

Copasure for Calves are copper oxide needles in hard gelatin capsules. The slow-release capsules are a dietary supplement that delivers long-lasting copper supplementation to treat copper deficiency.

DOSAGE & ADMINISTRATION:
Seek the advice of a veterinarian or cattle husbandry specialist to ascertain copper status and the type of supplementation required for cattle under consideration.

Calves from 150 to 500 lbs bodyweight: 1 capsule.

25gm:
Calves over 500 lbs bodyweight: 1 capsule.

Adult cattle in situations of very low copper status: 2 capsules.

Administer the capsule orally with a suitable balling gun. Regurgitation may be possible with any capsule or bolus if not administered properly. To be effective, capsules must be swallowed. Administer only intact capsules. Do not crush or break.










Please contact us for discount pricing on large orders.


Call toll free 1-800-892-6978 or email us at info@animalhealthusa.com