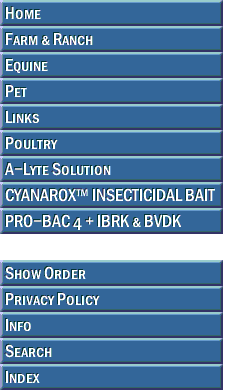 VETONE

Vitamin E-AD is a clear, sterile, water-emulsifiable solution of Vitamin A, Vitamin D3, and Vitamin E. It is intended for use as an aid in the prevention and treatment of Vitamin E deficiencies in swine, cattle and sheep, as well as a supplemental source of vitamins A, D and E. Each mL contains 300 IU of Vitamin E (as d-alpha-tocopherol); 100,000 IU Vitamin A propionate; and 10,000 IU Vitamin D3; compounded with 2% benzyl alcohol (preservative) in a water-emulsifiable base. Administer IM or SQ.

DOSAGE & ADMINISTRATION:
Intramuscular or subcutaneous administration only. May be repeated as needed. If dose is greater than 5 mL, equally divide the dose and inject at two different sites.










Please contact us for discount pricing on large orders.


Call toll free 1-800-892-6978 or email us at info@animalhealthusa.com