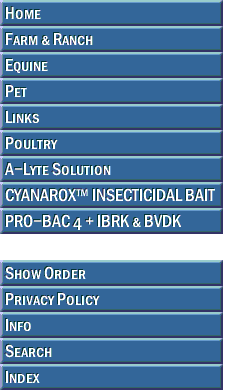 MERCK

Modified Live Virus for the vaccination of healthy, nonpregnant cattle, 3 months of age or older, as an aid in the control of respiratory disease caused by infectious bovine rhinotracheitis (IBR) virus and bovine virus diarrhea (BVD) virus (Types 1 and 2). Duration of Immunity has been demonstrated to be at least 6 months for IBR and BVD (Types 1 and 2).

DOSAGE/ADMINISTRATION:
Inject 2 mL subcutaneously. Calves nursing immune-dams should be vaccinated when maternal antibody levels will allow active immunization. Annual revaccination is recommended.










Please contact us for discount pricing on large orders.


Call toll free 1-800-892-6978 or email us at info@animalhealthusa.com