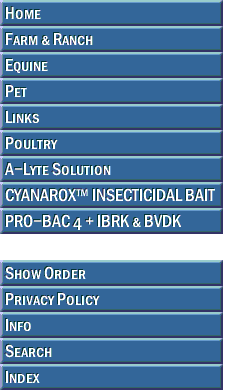 MERCK

For use in healthy cattle, sheep and goats as an aid in the prevention of Enterotoxemia caused by Clostridium perfringens Types C and D.

DOSAGE/ADMINISTRATION:
2 mL: cattle, sheep and goats. Inject subcutaneously. Repeat the dose in 3 to 4 weeks. Vaccinate annually. Store at 2°-7°C (35°-45°F). Use entire contents when first opened. Do not vaccinate within 21 days before slaughter. Anaphylactoid reactions may occur.










Please contact us for discount pricing on large orders.


Call toll free 1-800-892-6978 or email us at info@animalhealthusa.com