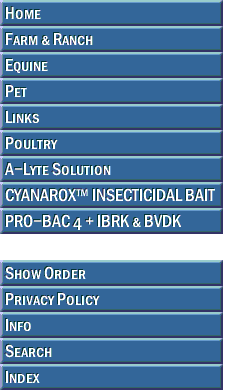 BOEHRINGER INGELHEIM

For vaccination of healthy horses 4 months of age or older, including pregnant mares, as an aid in reduction of respiratory diseases caused by Equine Herpesvirus types 1 and 4 (EHV-1 and EHV-4); and as an aid in the reduction of respiratory disease and shedding caused by A2 Equine Influenza virus. Product contains Kentucky Lineage (KY/95), Florida sublineage clade 1 (OH/03), and Florida sublineage clade 2 (RI/07) equine influenza strains. Efficacy (DOI) has been demonstrated for at least 6 months against OH/03.

DOSAGE AND ADMINISTRATION:
Shake well before use. Using aseptic technique, inoculate horses intramuscularly with a 1 mL dose. Administer a second 1 mL dose intramuscularly in 3-4 weeks using a different injection site. Revaccinate annually and prior to anticipated exposure with a single 1 mL intramuscular dose.










Please contact us for discount pricing on large orders.


Call toll free 1-800-892-6978 or email us at info@animalhealthusa.com