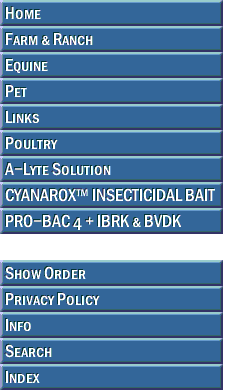 ZOETIS

For vaccination of healthy cattle, including pregnant cows, as an aid in preventing infectious bovine rhinotracheitis caused by infectious bovine rhinotracheitis (IBR) virus and disease caused by parainfluenza3 (PI3) virus.

DOSAGE/ADMINISTRATION:
1. General Directions: Administer 2 mL intranasally using a cannula or a syringe with the needle removed. Place half the dose (1 mL) in each nostril.
2. Primary Vaccination: Administer a single 2-mL dose to healthy cattle. Calves vaccinated before the age of 6 months should be revaccinated after 6 months of age to avoid possible maternal antibody interference with immunization.
3. Revaccination: Annual revaccination with a single dose is recommended.



10 dose
DISCONTINUED
50 dose
DISCONTINUED







Please contact us for discount pricing on large orders.


Call toll free 1-800-892-6978 or email us at info@animalhealthusa.com