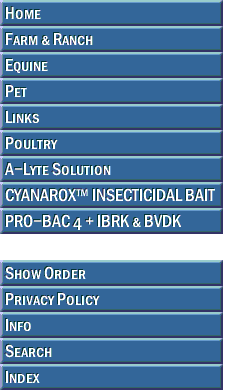 BOEHRINGER INGELHEIM

Killed Protozoa for vaccination of healthy cattle as an aid in the prevention of disease caused by Tritrichomonas foetus, Campylobacter fetus, Leptospira canicola, L. grippotyphosa, L. hardjo, L. icterohaemorrhagiae and L. pomona.

DOSAGE/ADMINISTRATION:
Cattle, inject one 5 mL dose subcutaneously under aseptic conditions in the neck or behind the shoulder. A second dose should be administered 2 to 4 weeks later. The last injection should precede the breeding season by 4 weeks. Revaccinate annually.



10 dose (50 mL)
SHORT SUPPLY Call for Availability 800-892-6978
50 dose (250 mL)
SHORT SUPPLY Call for Availability 800-892-6978







Please contact us for discount pricing on large orders.


Call toll free 1-800-892-6978 or email us at info@animalhealthusa.com