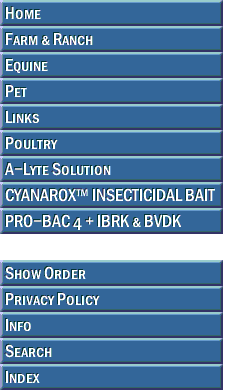 BOEHRINGER INGELHEIM

Killed Protozoa for vaccination of healthy cattle as an aid in the prevention of disease caused by Tritrichomonas foetus.

DOSAGE/ADMINISTRATION:
Cattle, inject one 2 mL dose subcutaneously under aseptic conditions. A second dose should be administered 2 to 4 weeks later. The last injection should precede the breeding season by 4 weeks. Revaccinate annually.










Please contact us for discount pricing on large orders.


Call toll free 1-800-892-6978 or email us at info@animalhealthusa.com