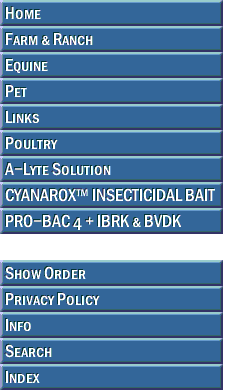 ZOETIS

A potent equine wormer containing pyrantel. For the removal and control of mature infections of large strongyles, pinworms, large roundworms, and small strongyles in horses and ponies.

DOSAGE/ADMINISTRATION:
Convenient disposable syringe treats 1,200 lbs body weight. To be administered as a single oral dose of 3 mg pyrantel base per pound of body weight. The syringe has four weight mark increments. Each weight mark indicates the recommended dose for 300 lbs of body weight. For maximum control of parasitism, it is recommended that foals (2 to 8 months of age) be dosed every 4 weeks. To minimize the potential source of infection that the mare may pose to the foal, the mare should be treated 1 month prior to the anticipated foaling date followed by retreatment 10 days to 2 weeks after birth of foal. Horses and ponies over 8 months of age should be routinely dosed every 6 weeks.










Please contact us for discount pricing on large orders.


Call toll free 1-800-892-6978 or email us at info@animalhealthusa.com