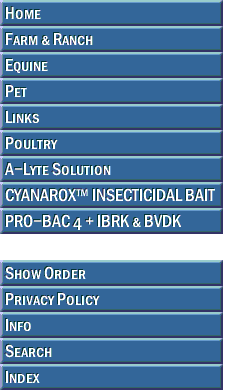 MERCK



DISCONTINUED



For use in healthy pregnant swine as an aid in the prevention of colibacillosis, enterotoxemia, atrophic rhinitis and pneumonia in their nursing piglets and the prevention of erysipelas in healthy pregnant swine. A chemically inactivated, adjuvanted product containing B. bronchiseptica, C. perfringens type C toxoid, E.rhusiopathiae, four major E. coli (K88, K99, F41, 987P) and P. multocida nontoxigenic type A and toxigenic type D.

DOSAGE/ADMINISTRATION:
When used alone, inject sow or gilt intramuscularly or subcutaneously with a 2 mL dose at 5 weeks and 2 weeks prefarrowing. Inject one 2 mL dose at 1-2 weeks before subsequent farrowing.










Please contact us for discount pricing on large orders.


Call toll free 1-800-892-6978 or email us at info@animalhealthusa.com