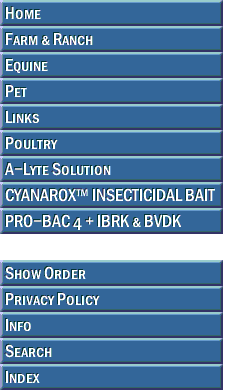 MERCK



DISCONTINUED


This product is recommended for use in healthy pregnant gilts and sows to aid in the prevention of neonatal pig diarrhea caused by E. coli expressing pili types K88, K99, 987P and Type 1.

DOSAGE/ADMINISTRATION:
Administer using normal aseptic techniques. First Farrowing: Two doses are necessary for vaccination. First Dose - Inject 2 mL subcutaneously into healthy pregnant swine 6-7 weeks prior to farrowing. Second Dose - Inject 2 mL subcutaneously 3-4 weeks following the first dose.
Subsequent Farrowing: A single 2 mL dose should be administered 2-3 weeks prior to each subsequent farrowing.










Please contact us for discount pricing on large orders.


Call toll free 1-800-892-6978 or email us at info@animalhealthusa.com