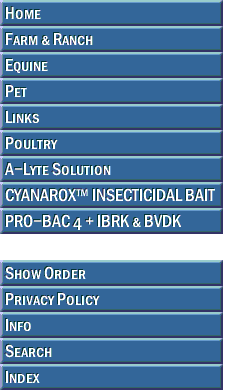 ELANCO

For use in healthy pregnant cattle as an aid in the prevention of disease in calves caused by bovine rotavirus and bovine coronavirus.

DOSAGE/ADMINISTRATION:
Administer 2 mL intramuscularly in the neck 8-16 weeks prior to calving. Repeat 4 weeks prior to calving. Revaccinate with one dose 8-10 weeks prior to each subsequent calving. Store out of direct sunlight at 2°-8°C (35°-46°F). DO NOT FREEZE.












Please contact us for discount pricing on large orders.


Call toll free 1-800-892-6978 or email us at info@animalhealthusa.com