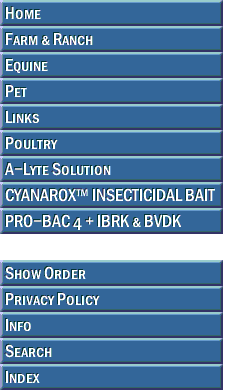 ZOETIS



DISCONTINUED





For use in cattle 6 months of age or older as an aid in the control of disease and fecal shedding caused by infection with Salmonella Newport.

DOSAGE/ADMINISTRATION:
Administer 2 mL (1 dose) subcutaneously ahead of the shoulder. Revaccinate in 2 to 4 weeks. Dry cows and bred heifers should be vaccinated twice before calving; whole herd vaccination may be done at any stage of lactation as an aid to control salmonellosis. Revaccinate annually.












Please contact us for discount pricing on large orders.


Call toll free 1-800-892-6978 or email us at info@animalhealthusa.com