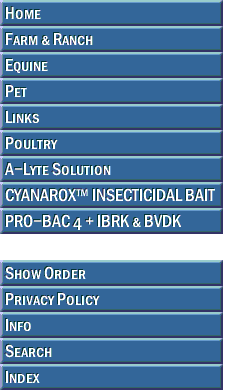 MERCK

Medicated (0.5% fenbendazole) alfalfa-based pellets. For the removal and control of lungworms, barberpole worms, brown stomach worms, small stomach worms, hookworms, thread-necked intestinal worms, small intestinal worms, bankrupt worms and nodular worms.

DOSAGE & ADMINISTRATION:
5 mg fenbendazole per kg body weight in a one (1) day treatment (2.27 mg fenbendazole per pound of body weight).










Please contact us for discount pricing on large orders.


Call toll free 1-800-892-6978 or email us at info@animalhealthusa.com