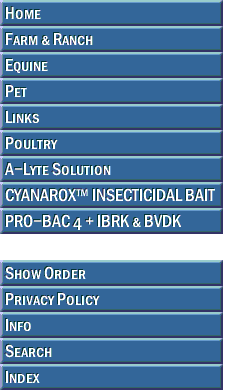 PHIBRO

For the removal and control of mature gastro-intestinal nematode infections of cattle including stomach worms, worms of the small intestine, and worms of the large intestine.

DOSAGE/ADMINISTRATION:
Use as a single therapeutic treatment in beef & dairy cattle by feeding 44 gm of medicated ration per 100 lbs body weight. The medicated feed mix should be consumed within 6 hours. May be fed as the sole ration or mixed with 1 to 2 parts of complete feed or as a top dress.



25 lbs
ON BACKORDER







Please contact us for discount pricing on large orders.


Call toll free 1-800-892-6978 or email us at info@animalhealthusa.com