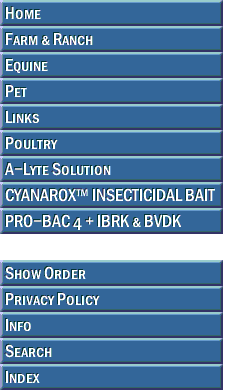 VETS PLUS

A ready-to-mix supplement that provides nutrients, plus a thickening agent to slow fluid loss and assist in a more efficient recovery. This unique electrolyte product contains the amino acid Glycine, which helps in nutrient absorption. When given as directed, it replaces fluids and electrolytes, corrects acidosis and provides energy. Revitilyte-Gelling is recommended for severe conditions while Revitilyte is suitable for less severe conditions.

DOSAGE/ADMINISTRATION:
Administer 1 packet per calf, twice daily for a minimum of 2 consecutive days or as needed. Other species, provide 1/4 teaspoon for every pound of body weight, mixed in appropriate amount of desired liquid (water, milk or milk replacer).










Please contact us for discount pricing on large orders.


Call toll free 1-800-892-6978 or email us at info@animalhealthusa.com