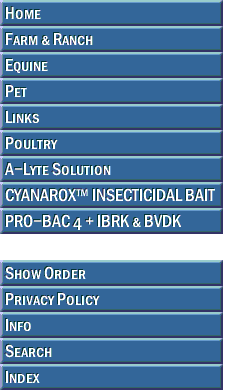 ZOETIS

Erysipelothrix Rhusiopathiae-Mycoplasma Hyopneumoniae Bacterin, chemically inactivated and adjuvanted with AmphigenŽ, swine 3 weeks and older. Meat withdrawal: 21 days.

DOSAGE/ADMINISTRATION:
administer a single 2 ml IM dose to healthy swine 3 weeks of age or older. Follow with another dose of erysipelas protection approximately 3 weeks later. Semiannual revaccination with a single dose of Respisure-ONE/ER Bac Plus is recommended.










Please contact us for discount pricing on large orders.


Call toll free 1-800-892-6978 or email us at info@animalhealthusa.com