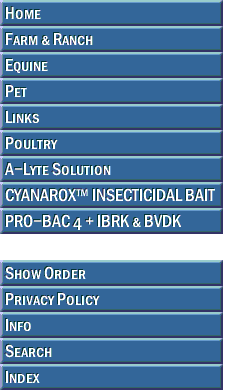 VEDCO

A high calorie concentrate with essential vitamin supplementation to stimulate the appetite in large animals while providing stamina and weight gain. Provides 1,800 KCAL per 10 oz. tube
(180 KCAL per fl oz.).

DOSAGE/ADMINISTRATION:
Calves (200-400 lbs): 1/2 tube twice daily for 2 days.
Cows: 1 tube daily for 2 days.
Foals: 1/2 tube daily for 2 days.
Horses: 1 tube morning and evening.
Dogs & Cats Maintenance: 5-10 lbs. body weight 5 mL twice daily, 10-30 lbs. body weight 10 mL twice daily,
30 lbs. or more 15 mL twice daily.



300 mL
ON BACKORDER







Please contact us for discount pricing on large orders.


Call toll free 1-800-892-6978 or email us at info@animalhealthusa.com