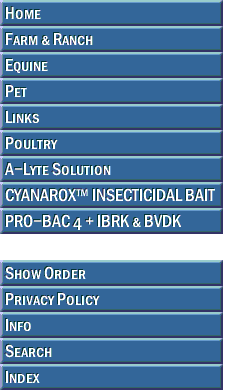 ZOETIS

Contains 20 mg moxidectin/mL. Specially formulated palatable gel for the treatment and control of Large Strongyles, Small Strongyles, Encysted cyathostomes, Ascarids, Pinworms, Hairworms, Large-mouth stomach worms, and Horse stomach bots. Indicated for use in horses and ponies, including breeding mares and stallions, and foals six months of age and older.

DOSAGE/ADMINISTRATION:
Treats up to an 1150 lb horse. Packaged in ready-to-use SURE-DIAL syringes which are calibrated in 50-pound increments, up to 1150 pounds. This enables the administration of the recommended dose level of 0.4 mg moxidectin/kg body weight by choosing a setting consistent with the animal's weight.










Please contact us for discount pricing on large orders.


Call toll free 1-800-892-6978 or email us at info@animalhealthusa.com