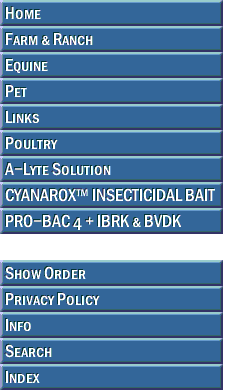 FIRST PRIORITY



DISCONTINUED



Indicated for the treatment and control of gastrointestinal roundworms, lungworms, grubs, horn flies, sucking and biting lice and sarcoptic mange mites in cattle.
Contains 5 mg ivermectin/mL.

DOSAGE/ADMINISTRATION:
The dose rate is 1 mL for each 22 lbs of body weight. The formulation should be applied along the topline in a narrow strip extending from the withers to the tailhead.
Measuring Dispenser included with 250 mL and 1 L sizes. Application Gun available for 2.5 L, 5 L, and 5 gal sizes.










Please contact us for discount pricing on large orders.


Call toll free 1-800-892-6978 or email us at info@animalhealthusa.com