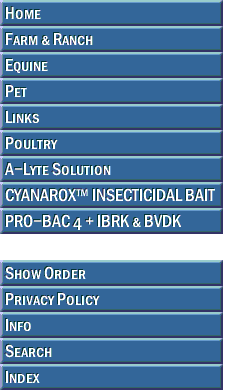 MERCK

For use in healthy pregnant swine as an aid in the prevention of rotaviral diarrhea, enterotoxemia and colibacillosis in their nursing piglets. Contains two major Rotavirus serotypes, four major E. coli pilus antigens (K88, K99, F41 and 987P) and C. perfringens type C toxoid.

DOSAGE/ADMINISTRATION:
Shake bacterin-toxoid well and restore accompanying vial of desiccated virus vaccine with 10-15 mL bacterin-toxoid and then transfer rehydrated vaccine to plastic bacterin bottle. Shake well, immediately inject a 2 mL dose intramuscularly into healthy pregnant swine at 5 weeks and again at 2 weeks before farrowing. In subsequent farrowings, inject one 2 mL dose 2 weeks before farrowing.










Please contact us for discount pricing on large orders.


Call toll free 1-800-892-6978 or email us at info@animalhealthusa.com