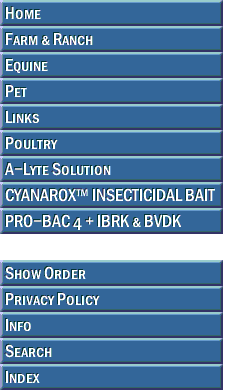 AGRILABS

Contains select strains of live, beneficial bacteria. Helps establish a population of these bacteria in the intestinal tracts of newborn pigs. Also helps pigs at weaning and during times of digestive upset such as ration changes, extreme weather or antibiotic therapy.

DOSAGE/ADMINISTRATION:
Administer orally in the corner of pig's mouth. At birth or first handling give 1 full pump (2 mL); at weaning or first evidence of intestinal imbalance give 1 full pump (2 mL) or as needed.










Please contact us for discount pricing on large orders.


Call toll free 1-800-892-6978 or email us at info@animalhealthusa.com