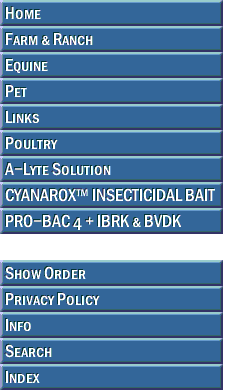 VETS PLUS

Contains a source of live (viable), naturally occurring microorganisms. For use in all ages of beef and dairy cattle, as well as adult sheep and goats. Guaranteed to contain lactic acid bacteria (Enterococcus faecium, Lactobacillus acidophilus, Lactobacillus casei, Lactobacillus plantarum).

DOSAGE/ADMINISTRATION:
Cattle: Newborns (1/4 oz), Calves under 400 lb (1/4 oz), Over 400 lb (1/2 oz), Cows (1 oz at freshening).
Sheep/Goats: (1/4 oz).










Please contact us for discount pricing on large orders.


Call toll free 1-800-892-6978 or email us at info@animalhealthusa.com