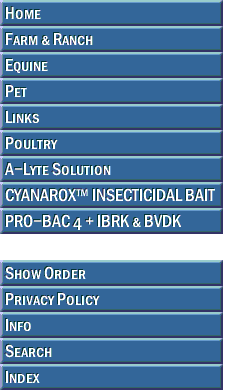 AGRILABS

Medicated, milk and water soluble additive for the control of coccidiosis in calves caused by Eimeria bovis and E. zuernii. Contains a source of live (viable), naturally occurring microorganisms and yeast culture to enhance intestinal integrity. High levels of vitamins provide nutritional support.

DOSAGE/ADMINISTRATION:
(Small measure enclosed approximates 1/8 oz.)
(Cup measure enclosed approximates 6 oz.)
Dairy Calves: Add PRO-BAC-C Medicated to the milk replacer liquid at the rate of 1/8 oz. twice daily for a 110 lb. calf to provide 50 mg of lasalocid. Increase or decrease proportionately based on calf size to provide 1 mg lasalocid per kg of calf body weight.










Please contact us for discount pricing on large orders.


Call toll free 1-800-892-6978 or email us at info@animalhealthusa.com