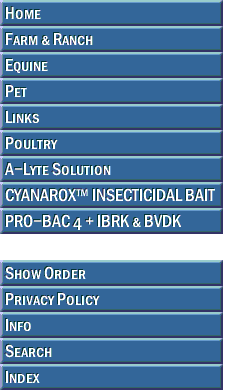 BIMEDA



PRODUCT DISCONTINUED



A mild laxative and antacid for use in digestive upsets in cattle. Each 12 oz packet contains 106 gm magnesium hydroxide. Also contains cobalt sulfate, ginger, capsicum, yeast autolysate and dl-methionine.

DOSAGE/ADMINISTRATION:
Depending on size and condition of animal, dilute 6-12 oz. powder in 1 gallon water; administer by stomach tube. Repeat as necessary.










Please contact us for discount pricing on large orders.


Call toll free 1-800-892-6978 or email us at info@animalhealthusa.com