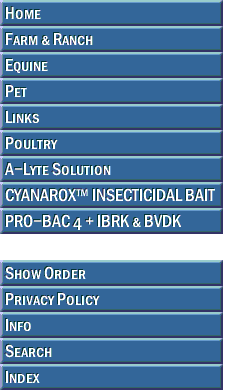 BOERINGER INGELHEIM

POLYFLEX (ampicillin for injectable suspension) is an antibiotic for the treatment of infections caused by Gram-positive and Gram-negative bacteria, including bacterial pneumonia.

DOSAGE & ADMINISTRATION:
Approved for use in cattle (including lactating dairy cows) and calves (including non-ruminating veal calves). Always follow milk and meat withdrawal per the label. Cattle and calves: 2 to 5 mg/lb of body weight once daily by intramuscular (IM) injection. Do not treat with POLYFLEX for more than seven days. Three days' treatment is usually adequate, but treatment should be continued for 48 to 72 hours after the animal has become afebrile or asymptomatic.



RX: Prescription is required. Call 800-892-6978 to order. Product not available for sale in California.












Please contact us for discount pricing on large orders.


Call toll free 1-800-892-6978 or email us at info@animalhealthusa.com