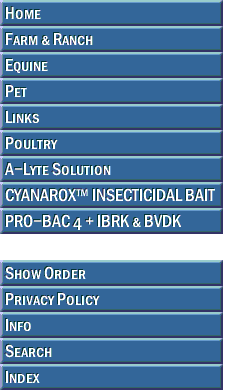 NOVARTIS



PRODUCT DISCONTINUED BY MANUFACTURER



A killed vaccine offering one-shot, one-mL protection against mycoplasmal pneumonia in an easily syringeable formulation. The product contains the proprietary ImmunSTAR adjuvant technology that makes the product efficacious at a low dose level. This technology also is the basis of another new one-shot, one-mL swine vaccine introduced by Novartis recently – PneumoSTAR SIV. Research conducted to receive USDA approval showed the mycoplasmal pneumonia vaccine to be effective for 23 weeks following administration. In a controlled study, animals challenged 23 weeks after a single 1-mL vaccination of PneumoSTAR Myco had a 50 percent reduction in lung lesions at slaughter compared to nonvaccinated controls.

DOSAGE/ADMINISTRATION:
3 weeks of age or older. 1 mL dose, intramuscularly.










Please contact us for discount pricing on large orders.


Call toll free 1-800-892-6978 or email us at info@animalhealthusa.com