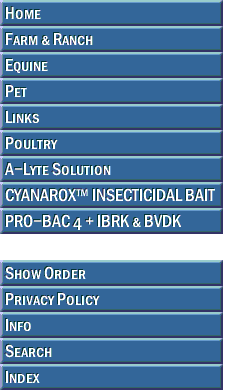 MERCK

For use in healthy cattle to aid in the prevention of pinkeye associated with infection by Moraxella bovis strains expressing pili similar to those expressed by isolates referred to by Schering-Plough as Strains Epp 63, Fla 64 and SAH 38.

DOSAGE/ADMINISTRATION:
Inject 2 mL subcutaneously or intramuscularly INTO THE NECK 3 to 6 weeks prior to onset of pinkeye season. Annual revaccination is recommended.










Please contact us for discount pricing on large orders.


Call toll free 1-800-892-6978 or email us at info@animalhealthusa.com