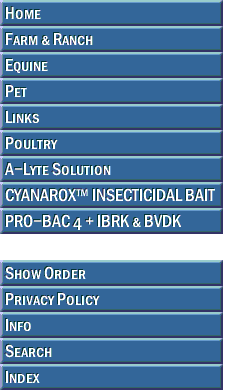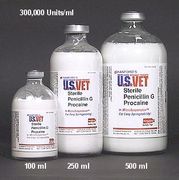 DISCONTINUED



HANFORD'S US VET

A Short Acting Penicillin for the treatment of cattle and sheep for bacterial pneumonia (shipping fever) caused by Pasteurella multocida; swine for erysipelas caused by Erysipelothrix rhusiopathiae (insidiosa); and horses for strangles caused by Streptococcus equi. Each mL of suspension contains 300,000 units of Penicillin G procaine.

DOSAGE/ADMINISTRATION:
Should be injected deep within the fleshy muscles of the hip, rump, round or thigh. The dosage for cattle, sheep, swine and horses is 3,000 units per lb of body weight or 1 mL for each 100 lbs of body weight, once a day. Continue the treatment for at least 1 day after the symptoms disappear (usually 2 or 3 days).



100 mL
DISCONTINUED
250 mL
DISCONTINUED
500 mL
DISCONTINUED







Please contact us for discount pricing on large orders.


Call toll free 1-800-892-6978 or email us at info@animalhealthusa.com