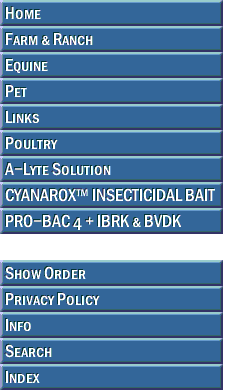 COLORADO SERUM

For use on healthy sheep and goats as an aid in the control of "Sore Mouth" disease.

DOSAGE/ADMINISTRATION:
Scratch the outer layer of skin, such as the inside flank with applicator an area of at least one square inch. Rehydrate the vaccine (with accompanying diluent) immediately before use and apply with enclosed brush or by placing a drop on the scarified area and brush vigorously.










Please contact us for discount pricing on large orders.


Call toll free 1-800-892-6978 or email us at info@animalhealthusa.com