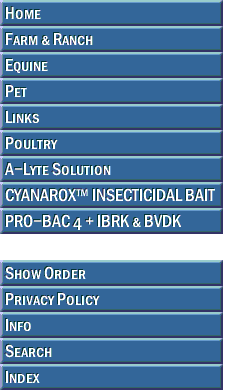 ZOETIS

A sterile, non-antibiotic intramammary infusion in the form of a viscous paste. Orbeseal is indicated for the prevention of new intramammary infections throughout the dry period. Each syringe contains 4 grams of intramammary infusion composed of 65% Bismuth Subnitrate.

DOSAGE/ADMINISTRATION:
After last milking at dry-off, clean and disinfect the teats with the alcohol swabs provided. Infuse the entire contents of 1 syringe of Orbeseal into each quarter by inserting the nozzle into the teat and applying gentle continuous pressure to the plunger until the paste is expressed.










Please contact us for discount pricing on large orders.


Call toll free 1-800-892-6978 or email us at info@animalhealthusa.com