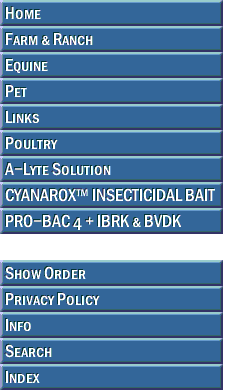 VAN BEEK

This organic reproductive care product for use in beef and dairy cattle is administered intrauterine immediately post-calving to help restore the cow's uterus back to normal as quickly as possible and reduce the breed back timeframe. Contains essential oils with antimicrobial properties that maintain and restore a normal uterine environment. Yucca, a natural foaming agent, helps the product reach all areas of the uterus. UterFlush is all-natural so it requires no milk withholding and leaves no drug residue.

DOSAGE & ADMINISTRATION:
Using a 14 gauge needle, mix 30 ml UterFlush syringe with 1,000 ml distilled water (makes 8 administrations). SHAKE WELL. Administer 120 ml of diluted mix intrauterine. An additional 120 ml can be administered 24 hours later if necessary. It is not recommended to exceed more than eight administrations.










Please contact us for discount pricing on large orders.


Call toll free 1-800-892-6978 or email us at info@animalhealthusa.com