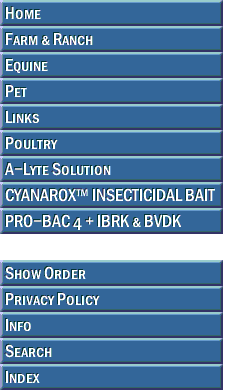 ZOETIS

A bacterin-toxoid for vaccination of healthy cattle as an aid in preventing bovine pneumonic pasteurellosis caused by Pasteurella haemolytica type A1.

DOSAGE/ADMINISTRATION:
Aseptically rehydrate the freeze-dried bacterin-toxoid with the accompanying adjuvant-containing sterile diluent, shake well, and administer 2 mL subcutaneously. Healthy cattle should be vaccinated a minimum of 14 days prior to weaning, shipping, or exposure to stress or infectious conditions. Good management practices support revaccination whenever subsequent stress or exposure is likely.










Please contact us for discount pricing on large orders.


Call toll free 1-800-892-6978 or email us at info@animalhealthusa.com