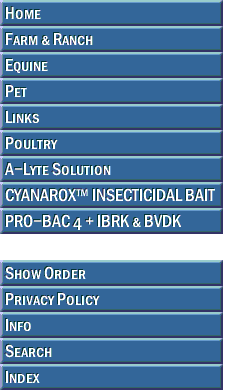 MERCK

Description :

Nuflor®-S (florfenicol) Injectable Solution is indicated for treatment of swine respiratory disease associated with Actinobacillus pleuropneumoniae, Pasteurella multocida, Salmonella Choleraesuis, Streptococcus suis, Bordetella bronchiseptica, and Glaesserella (Haemophilus) parasuis in swine except for nursing piglets and swine of reproductive age intended for breeding.

▪The first and only injectable florfenicol approved for use in U.S. swine ▪Broad-spectrum treatment of swine respiratory disease complex pathogens ▪Florfenicol is the only compound in its class used exclusively in food animals ▪Easy to use, requires no mixing or reformulation



RX: Prescription is required. Call 800-892-6978 to order. Product not available for sale in California.












Please contact us for discount pricing on large orders.


Call toll free 1-800-892-6978 or email us at info@animalhealthusa.com