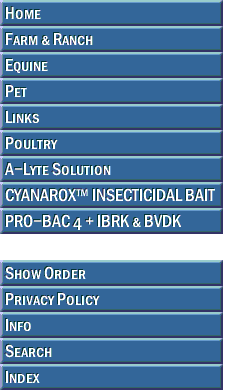 MANNAPRO

All-Milk protein for excellent digestibility and performance. • 24% protein and 24% fat supports fast, healthy growth. • Formulated for 9 different species of baby animals: calves, foals, goat kids, lambs, baby pigs, crias (llama & alpaca), fawns and elk calves.

DOSAGE & ADMINISTRATION:
Individual animals vary in requirements. Adjust amounts fed according to body weight and appetite. Consult with your veterinarian regarding any health concerns. Feed Colostrum from the mother for the first 24 hours of life. If the mother's Colostrum is not available, use Manna Pro's Colostrum Supplement.










Please contact us for discount pricing on large orders.


Call toll free 1-800-892-6978 or email us at info@animalhealthusa.com