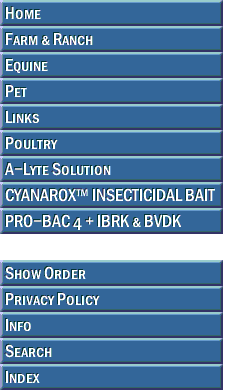 DISCONTINUED





FORT DODGE

Chlorhexidine acetate plus glycerine for use as an aid in controlling bacteria that cause bovine mastitis.

DIRECTIONS:
One pint of Nolvasan 4% Teat Dip Concentrate makes 1 gallon of 0.5% teat dip solution.
Teat dipping should start 1 week before the cow freshens. During lactation, dip each teat into the 0.5% solution immediately after the cow is milked. When the cow is dried off, the teats should continue to be dipped in the solution once a day for 3 to 4 days. Dip each teat so that the lower 1 inch of the teat has been covered with the solution. Udder and teats of the cow should be thoroughly washed before milking.










Please contact us for discount pricing on large orders.


Call toll free 1-800-892-6978 or email us at info@animalhealthusa.com