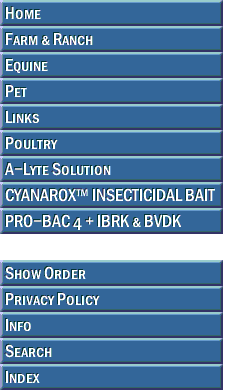 BOEHRINGER INGELHEIM

Indication - fleas | ticks

Active Ingredient : Afoxolaner

Description:

The first and only chew that kills both fleas and ticks. Approved for the treatment and prevention of flea infestations, and treatment and control of the American dog tick, Black-legged deer tick and Lone star tick in adult dogs and puppies, for one month. Approved for dogs and puppies 8 weeks of age and older and weighing 4 pounds or greater. Contains the novel active ingredient afoxolaner, an isoxazoline based compound with a new and distinct mode of action. Braised beef flavor in a soy protein base for easy administration.



4-10 lbs, Orange Label (3 dose x 10)
10.0-24 lbs, Blue Label (3 dose x 10)
24.1-60 lbs, Purple Label (3 doses x 10)
60.1-121 lbs, Red Label (3 dose x 10)







Please contact us for discount pricing on large orders.


Call toll free 1-800-892-6978 or email us at info@animalhealthusa.com