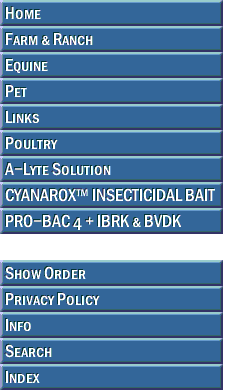 PRODUCT DISCONTINUED BY MANUFACTURER



INTERVET

For use in healthy swine as an aid in the prevention of pneumonia caused by Mycoplasma hyopneumoniae. An inactivated, adjuvanted culture of M. hyopneumoniae.

DOSAGE/ADMINISTRATION:
Shake well, inject intramuscularly or subcutaneously. Sow and Gilts: One 2 mL dose at 5 weeks and 2 weeks prefarrowing; one 2 mL dose at 1-2 weeks before subsequent farrowings. Baby Pigs: One 1 mL dose at 5-7 days of age; one 1 mL dose at 23-28 days of age. Feeder Pig Vaccination: One 1 mL dose at weaning (3 weeks of age); one 1 mL dose 3 weeks later. Boars: One 2 ml dose annually.










Please contact us for discount pricing on large orders.


Call toll free 1-800-892-6978 or email us at info@animalhealthusa.com