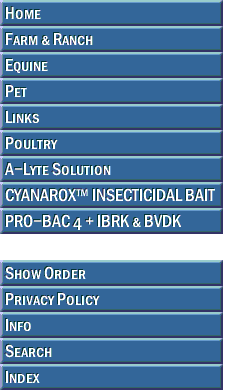 RXV

Multimin 90 is a supplemental source of zinc, manganese, selenium and copper for cattle. Each ml of Multimin 90 is a chelated source of 60 mg zinc, 10 mg manganese, 5 mg selenium and 15 mg copper. Multimin 90 should be administered to cattle by SQ injection.

DOSAGE & ADMINISTRATION:
The recommended dosage is 1 ml per 100 lbs body weight for calves up to 1 year of age; 1 ml per 150 lbs for cattle 1-2 years of age; and 1 ml per 200 lbs for cattle over 2 years of age. Frequency of administration may vary to suit management program. Zinc, manganese, selenium and copper.



RX: Prescription is required. Call 800-892-6978 to order. Product not available for sale in California.












Please contact us for discount pricing on large orders.


Call toll free 1-800-892-6978 or email us at info@animalhealthusa.com