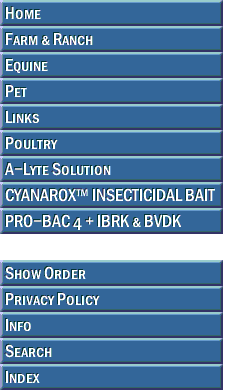 MERCK

This product contains the antigen listed above. M+PAC bacterin contains the proprietary dual adjuvant Emunade. Preservatives: Ampicillin, gentamicin and thimerosal. Indications: Recommended for use as an aid in the prevention of pneumonia caused by Mycoplasma hyopneumoniae infection in swine.

DOSAGE/ADMINISTRATION:
For vaccination of healthy swine. Using aseptic technique. Vaccinate pigs subcutaneously or intramuscularly at 7-10 days of age or older with a 1 mL dose followed by a second 1 mL dose 14 days later. For herds that use a single dose program, vaccinate pigs intramuscularly at 6 weeks of age or older with a single 2 mL dose. Intramuscular vaccination with a single 2 mL dose of M+PAC at 6 weeks of age has been demonstrated to provide at least 4 months duration of immunity.










Please contact us for discount pricing on large orders.


Call toll free 1-800-892-6978 or email us at info@animalhealthusa.com