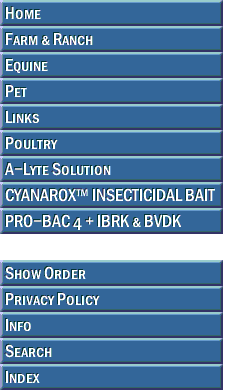 ZOETIS

lincomycin-spectinomycin

Antibacterial and Antimycoplasmal

For proportioners delivering 1 ounce of solution per gallon of drinking water, dissolve contents of 5 bottles in each gallon of proportioner solution.

Important: Chickens should consume water at the following approximate rate to insure intake of the required dose of lincomycin-spectinomycin indicated:



RX: Prescription is required. Call 800-892-6978 to order. Product not available for sale in California.












Please contact us for discount pricing on large orders.


Call toll free 1-800-892-6978 or email us at info@animalhealthusa.com