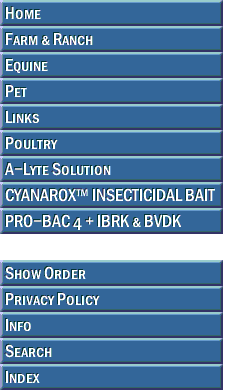 PRODUCT DISCONTINUED BY MANUFACTURER



PFIZER

Vaccination of healthy, pregnant sows and gilts for passive transfer of protective maternal antibodies to their pigs against neonatal colibacillosis caused by enterotoxigenic strains of Escherichia coli producing heat-labile toxin or having the K99, K88, 987P, or F41 adherence factors. The addition of F41 offers broader protection than previously available. The bacterin is prepared from chemically inactivated strains of Escherichia coli. A sterile adjuvant is used to enhance the immune response. LITTERGUARD LT combines Escherichia coli antigens with LTB toxoid that builds immunity to the poisonous toxins released by Escherichia coli bacteria.

DOSAGE/ADMINISTRATION:
Aseptically administer 2 mL intramuscularly or subcutaneously. Primary Vaccination: Healthy, pregnant swine should receive 2 doses administered 3 weeks apart during the last half of pregnancy. The second dose should be given at least 2 weeks before farrowing. Revaccination: Pregnant swine should be revaccinated with a single dose at least 2 weeks before each subsequent farrowing.










Please contact us for discount pricing on large orders.


Call toll free 1-800-892-6978 or email us at info@animalhealthusa.com