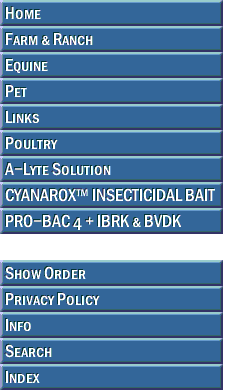 VET ONE

For intra-uterine or topical use only for use as an antiseptic and proteolytic aid in beef and dairy cattle and sheep. Each bolus contains 13.4 gms urea.

DOSAGE/ADMINISTRATION:
Cattle (2-4 boluses) and Sheep (1/2-1 bolus) inserted into uterus or dissolved in 1 pt warm water to make a flush.
For topical application, dissolve 4 boluses in 1 pt warm water & thoroughly flush. Repeat treatment in 24-48 hours if needed.










Please contact us for discount pricing on large orders.


Call toll free 1-800-892-6978 or email us at info@animalhealthusa.com