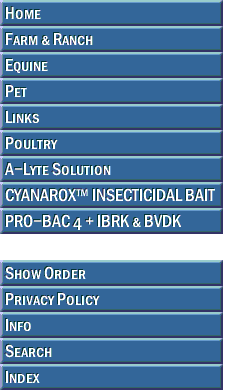 PRODUCT DISCONTINUED BY MANUFACTURER



BOEHRINGER INGELHIEM

The only Mycoplasma 1-Shot Vaccine with a Depot-Adjuvant. The unique Impran(r) depot-adjuvant facilitates a prolonged antigen release generating a sustained stimulation of both humoral and cell-mediated immunity. Used as an aid in the prevention of pneumonia caused by Mycoplasma hyopneumoniae (M. hyo).

DOSAGE/ADMINISTRATION:
Using aseptic technique, inject a single 2 mL dose intramuscularly. The duration of immunity is 120 days. Semi-annual revaccination is recommended for breeding swine.










Please contact us for discount pricing on large orders.


Call toll free 1-800-892-6978 or email us at info@animalhealthusa.com