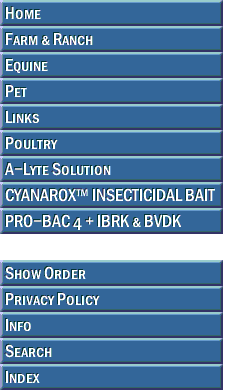 DURVET

For the removal and control of mature gastrointestinal nematode infections of goats including Haemonchus contortus, Ostertagia (Teladorsagia) circumcinta, and Trichostrongylus axei.

DOSAGE & ADMINISTRATION:
May be retreated within 2-4 weeks. 4 oz. measuring scoop included. Feed 2 oz. per 25 lbs. of body weight. 3 lb. bag will treat six (6) 100 lb. goats.










Please contact us for discount pricing on large orders.


Call toll free 1-800-892-6978 or email us at info@animalhealthusa.com