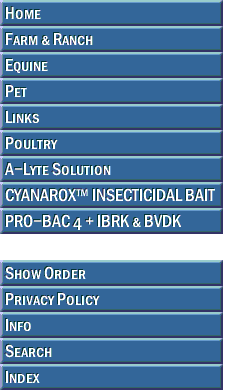 MERCK



DISCONTINUED



A multi-strain ovine footrot bacterin for the prevention and treatment of footrot in sheep. Designed to stimulate a strong immunological response for the protection from new infection, and treatment of infection already present. Protects against 10 strains of Bacteroides nodosus.

DOSAGE/ADMINISTRATION:
Aseptically administer 1 mL under the skin in the anterior half of the neck. Should be repeated in 6 weeks for best results. Booster vaccinations should be given bi-annually or prior to anticipated outbreak. Vaccine may be immersed in lukewarm water to make product flow more readily.










Please contact us for discount pricing on large orders.


Call toll free 1-800-892-6978 or email us at info@animalhealthusa.com