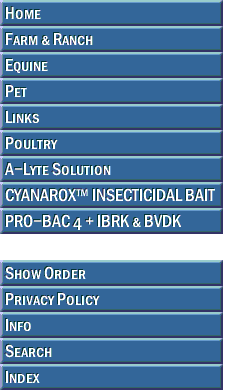 NORBROOK

Flunixin meglumine is a relatively potent non-narcotic, nonsteroidal analgesic with anti-inflammatory, anti-endotoxic and anti-pyretic properties. In horses, indicated for the alleviation of inflammation and pain associated with musculo-skeletal disorders and for the alleviation of visceral pain associated with colic, also indicated for the treatment of endotoxaemia or septic shock associated with gastric torsion and for other conditions in which the circulation of the blood to the gastrointestinal tract is compromised. In cattle, indicated for the control of acute inflammation associated with respiratory disease. It may also be used as adjunctive therapy in the treatment of acute mastitis. In Pigs, Flunixin Injection is indicated as an adjunctive therapy in the treatment of swine respiratory diseases.

DOSAGES & ADMINISTRATION:
Consult your veterinarian.

Withdrawal: Cattle: Meat: 7 Days, Milk: 36 Hours Horses: Meat: 7 Days Pigs: Meat: 22 Days Do not use in mares producing milk for human consumption.



RX: Prescription is required. Call 800-892-6978 to order. Product not available for sale in California.












Please contact us for discount pricing on large orders.


Call toll free 1-800-892-6978 or email us at info@animalhealthusa.com