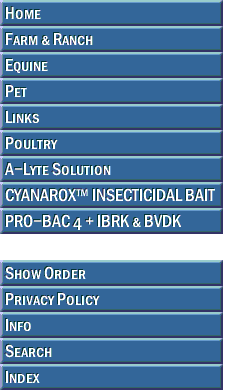 BIMEDA

An FDA-approved, all-in-one dewormer that combines 1.87% Ivermectin and 14.03% Praziquantel to safely and effectively rid horses of all major internal parasites, including Tapeworms, Large strongyles, Small strongyles, Pinworms, Ascarids, Hairworms, Large-mouth stomach worms, Bots, Lungworms, Intestinal threadworms, Summer sores, and Dermatitis. May be used in horses 4 weeks of age and older. Stallions and breeding, pregnant or lactating mares may be treated without adverse effects on fertility.

DOSAGE/ADMINISTRATION:
Each syringe contains sufficient paste to treat one 1320 lb horse at the recommended dose rate of 91 mcg ivermectin per lb of body weight. Each weight marking on the syringe plunger delivers enough paste to treat 220 lb of body weight.










Please contact us for discount pricing on large orders.


Call toll free 1-800-892-6978 or email us at info@animalhealthusa.com